Learn about W Craig Tomlin
As an award-winning UX, marketing and conversion optimization leader, I am proud to have generated millions of dollars in incremental revenue for start-ups, small businesses and Fortune 100 companies since 1996. I specialize in conducting behavioral UX data analysis coupled with qualitative assessments to form a comprehensive 360 degree view into the user engagement and interaction of a website or app. Using this comprehensive data, I create strategies and tactics that enhance the user experience, improve conversion and ultimately lead to higher ROI.
As Founder of WCT & Associates LLC, a Digital Strategy & Conversion Consultant, I engage with firms as a Digital Strategist, Marketing and Conversion Optimization expert. A typical client engagement starts with a detailed review of data, coupled with an analysis of behavioral UX data and the qualitative experience of a website or app. I create a complete analysis including recommendations for optimizations which can easily be transferred into A/B or multivariate tests. I also evaluate and optimize Email, SEO, Paid Search, Marketing, Websites and Conversion strategies and tactics to improve ROI and increase revenue.
"Craig's work realistically gained us several million dollars in revenue with the changes he recommended. His level of detail for actionable changes was jaw dropping."
Eric C., Online Marketing Executive, Arthur Rutenberg Homes
CLIENTS: BigCommerce, FSAStore, Gemalto, MedSpring, Nixon, SCITexas & more
Prior to my consulting business I was an Account Director at Bulldog Solutions. I led a team in implementing UX strategy, demand generation, marketing automation, and conversion optimization practices for one of the leading demand gen agencies in the U.S. for Fortune 500 clients utilizing SalesForce, Eloqua & Marketo.
CLIENTS: BlackBerry, EMC, Ricoh, SunGard and more
As an example of my team's success, we experienced a $10.2M increase in demand generated revenue in less than 9 months for a Fortune 500 firm with an optimized UX strategy coupled with a multiple award winning database marketing automation campaign and revamped web program. I was proud to direct a team of over 10 experts in developing award-winning User Experiences, Websites, SEO, PPC, Social Media and Email programs using Eloqua, Marketo and other marketing tools. During my tenure there, we doubled customer satisfaction scores. We were also very proud to be three-time award winners for best in class marketing programs that achieved superior results and goal-breaking revenue including: Winner, Marketo 'Revvie' award, Finalist, Marketo 'Revvie' award, and Winner, 'Killer Content' award from the Content Marketing Institute.
Prior to Bulldog I was VP, UX and Online Marketing Operations at Apogee Results. While at Apogee, I led UX Strategy, Demand Generation, Website Development, PPC, SEO, Analytics, CRO, and eMail marketing practices for one of the leading online marketing agencies in the Southwest.
CLIENTS: BMC Software, Cavender's, CDC.gov, IBM, Jimmy Jacobs Homes, NFIB.com, and more
At Apogee I was hired as a Director but then promoted 6 months in to VP. I was fortunate to be a team leader responsible for 20 amazing employees in the creation and execution of digital experience strategy, online marketing and eCommerce activities for mid to enterprise size clients in the B2B, B2C and eCommerce space. While there, I developed, launched and led the Conversion Rate Optimization (CRO), Marketing Automation and eMail practices that added an additional 30% incremental revenue to the firm. My and my team's efforts grew average monthly revenue per client by more than 50% per month in less than one year. I also recruited, hired and coached 7 new employees resulting in an increase in productivity and billings per-client in Paid Search, SEO, CRO and analytics by over 60%.
Prior to Bulldog I was Director of User and Customer Experience at TouchCommerce. I was responsible for optimizing the user and customer experience of our clients with detailed UX and analytics evaluations including conducting A/B split testing, Google Analytics reviews, KPI audits, customer segmentation and satisfaction analysis and user research and testing. By continually testing and refining our products, I was able to increase conversion by 50% on key clients including AT&T, DirecTV, Sprint and more.
At Countrywide, as Vice President, Internet Management I led the team in creating customized user experiences and marketing websites based on user-centered designs that broke all Company records. As an example, one of my campaigns resulted in generating almost $3,000,000 in loan revenue in less than 6 months, breaking even 50% faster than forecast, and ranking #1 on Google for targeted terms in less than 1 week.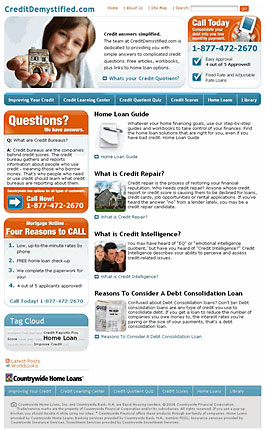 The Credit Demystified site set many records for Countrywide.
The site also set many firsts for Countrywide, including:
First Countrywide site to be built on the WordPress blogger platform
First to include advanced posting and archiving
First to have many built-in 2.0 delivery channels such as RSS, Technorati links, Podcasts, Tagclouds and automated Tagging tools
First to include full natural search metrics directly into enterprise reporting
After one month, the site registered a Page Rank of "6," equal to the main countrywide.com site, and beating several other major Countrywide sites!
At WellPoint, I directed all online marketing campaigns for a $20 Billion managed healthcare company. Subsidiaries included; Blue Cross of California, Blue Cross Blue Shield of GA, MO, WI & UniCare.
I won 1st place awards from Web Marketing Association, Blue Cross Blue Shield Association and WWW Health Awards for user-centered design of a unique, customized marketing microsite and campaign targeting 19-30 year olds. The microsite beat marketing lead expectations by 176%.
Finally, I am fully cognizant of the end goal of businesses, which is to leverage technology for revenue generation or retention efforts. For example, ongoing usability improvements led by me on several marketing microsites had significantly increased the number of leads and thus decreased the cost per lead by almost 50%, and increased conversion to a level almost double that of off-line media.
I have a Bachelor of Arts and am extremely proficient at all aspects of Microsoft Office tools. I would be pleased to answer any questions you may have about me or my experiences, and would appreciate the opportunity to work with you to increase the efficiency of your marketing and sales efforts.
Portfolio and Project Examples from W Craig Tomlin
Here are some examples of online marketing projects I have created for some of my clients.
Craig Tomlin portfolio and select samples of projects
W Craig Tomlin and the Right Plan – presentation (PDF)
This very successful microsite and online marketing campaign won a "Best of Blue" Award from the Blue Cross Blue Shield Association, best Insurance Microsite from the Web Marketing Association, and a Bronze award from WWW Health Awards. The site targeted uninsured 19-30 year olds. The information architecture, style, terminology, colors and fonts were specifically created to match the mental map and expectations this audience experienced and expected in web sites.